MyVest CEO Anton Honikman and TIAA Chief Digital Officer Scott Blandford spoke to a packed house during the Industry Innovation Lunch at IN|VEST 2019. Among the many topics they discussed was why the TIAA/MyVest acquisition has been so successful.
---
Originally published in FinancialPlanning | by Charles Paikert | July 17, 2019
You've acquired a fintech — congratulations.
Now comes the hard part: how can the firm be successfully integrated?
That process should actually start before the deal is sealed on both ends. Fintech firms need to ask themselves if they should stay independent, Anton Honikman, CEO of MyVest, told attendees at SourceMedia's In|Vest conference.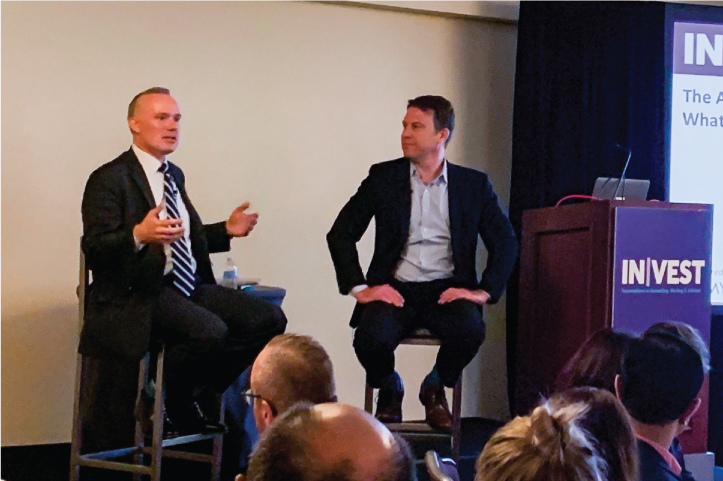 Too many fintech firms focus on "the narrow and new" in an attempt to slice off market share from established companies, he says. But more often than not, he contends, this strategy results in gaining only a "tiny" share of a market and turns out to be "much ado about nothing."
By contrast, established financial companies like TIAA must deal with issues that are "old and broad," according to Scott Blandford, TIAA's chief digital officer, who spoke on a panel Honikman.
Fintech firms that are able to solve problems for large financial institutions like TIAA can actually contribute "broader horizontal solutions" than they would have by remaining independent, Blandford observed.
TIAA's acquisition of MyVest three years ago is an example of a combination of a fintech startup and an established institution that has worked, according to Honikman and Blandford.
Other examples include Invesco's purchase of Jemstep, Envestnet's acquisition of Yodlee and Fidelity buying eMoney, Honikman added.
The key to making these pairings work?
Above all, fight to maintain autonomy and your own identity, Honikman stressed.
"Retain your own brand," he told conference attendees. "Don't co-locate. Have a separate office and a separate look and feel."
Maintaining the fintech's third-party customers is also critical, Honikman and Blandford agreed. "Having different customers keeps you competitive and dynamic," Honikman said.
Indeed, TIAA encourages MyVest to have a separate customer base. "We benefit from the input and a fresh flow of ideas," Blandford said.
Perhaps just as important to keep in mind is that fintech employees want to work for a fintech company, not for a large financial institution.
"If we had just one customer, 50% of my employees would leave," Honikman said. Indeed, he said, the first consideration for an acquirer after buying a fintech firm should be "how do we retain talent?"
"If the buyer wants the firm they bought to grow and flourish, it starts with people," he told the audience. "This is a talent-based business."
See the full article in FinancialPlanning.