We had a great time at the inaugural IN|VEST West conference here in our hometown of San Francisco. IN|VEST is always one of our favorite events, and this was no exception.
"Big Bets in Wealth" Panel
Led by conference chair (and name anagrammer extraordinaire) Seb Dovey, CEO Anton Honikman was part of the Big Bets in Wealth panel, where industry leaders placed their bets on the future of the fintech industry. Here's what they had to say: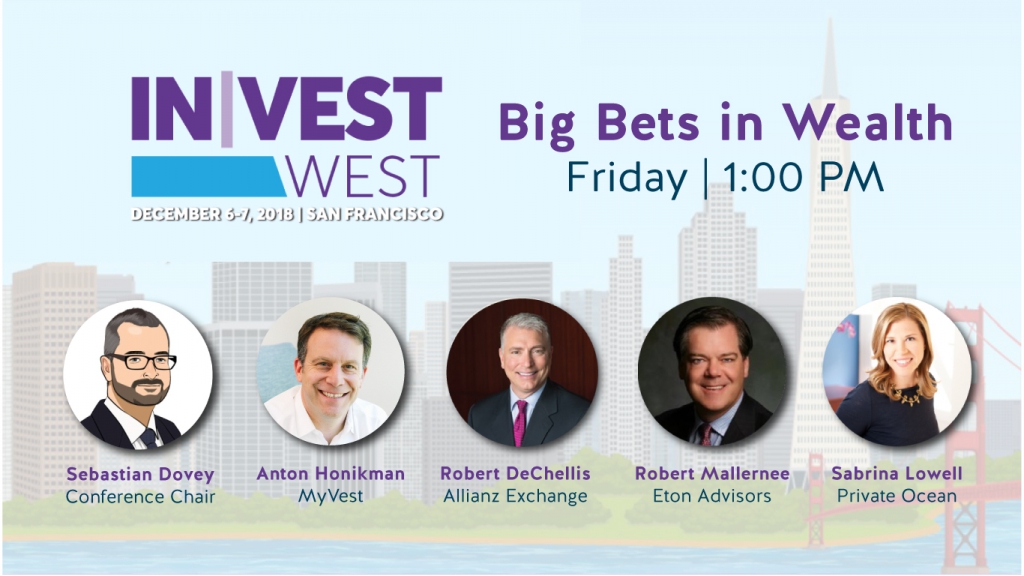 Sabrina Lowell, Private Ocean: "It's the firms that understand what clients of the future are seeking in an advisory relationship that will continue to win business. Focus on qualitative skills and human capital diversity." (See more from Sabrina's big bet.)
Robert DeChellis, Allianz Exchange: "We'll see a seismic shift in our industry from accumulation to decumulation. With this we'll be speaking more holistically in terms of the investor's assets."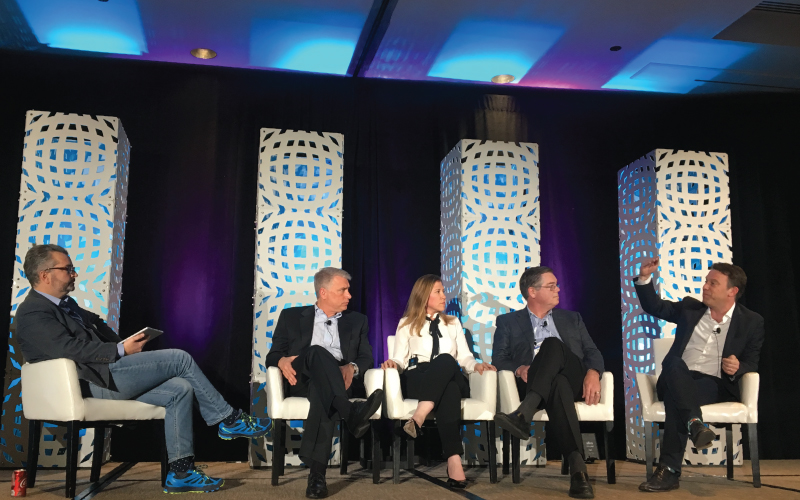 Robert Mallernee, Eton Advisors: "The ecosystem-based wealth management model will be delivered to a much wider audience than purely the family wealth space."
Anton Honikman, MyVest: "The lines between retail and institutional advice will blur to better serve the customer. Legacy tech is holding the industry back; modern digital tech will span silos."
Lights, Camera, Action
Not content with the attention our MyVest-branded socks draw to our booth, we thought we'd really stand out by adding a mobile studio for a shoot with MEDICI's Shannon Rosic.
Stay tuned for a soon-to-be-released chat with Anton about his big bets for the future of fintech. (We always love working with Shannon and her team.)

In the News
Prior to the conference, Financial Planning's Sean Alloca sat down with Anton to talk about one of his Big Bets for the future of wealth management: that data aggregation will be essential in the industry's fundamental shift from product-centric to client-centric advice.
"To undo all of those layers of legacy that were built for an orthodoxy that will one day be obsolete is a huge challenge," he says. "Massive organizations don't move at speed, but they're are going to increasingly need to."
Read more about what Anton had to say.
(Craig Iskowitz also wrote a great recap of the entire conference, including a section on the Big Bets panel.)